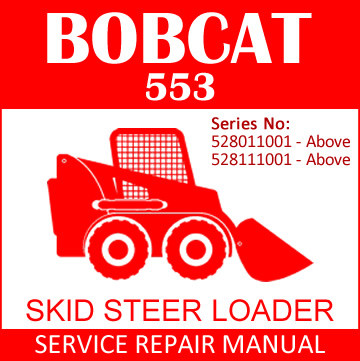 Download Bobcat 553 Skid Steer Loader service manual PDF (Series No: 528011001-528111001). This is the latest repair manual that contains all the relevant information you need to servicing, repairing, diagnosis and maintenance your bobcat vehicle.
Our Bobcat Skid Steer Loader 553 manual highly reliable and informative as it is produced by a group of professionals. With easily comprehensive illustrations and step-by-step instructions in our manual, we are certain you could troubleshoot your bobcat machine easily regardless of your initial knowledge on the vehicle.
Series No:
528011001 – Above
528111001 – Above
Bobcat Manual Covers:
– Maintenance Instruction
– Hydraulic System
– Hydrostatic Service
– Electrical System
– Engine Service
– Engine Removal & Installation
– Drive System
– Main Frame
– Heating, Ventilation, Air Conditioning
– Clutch Adjustment
– Drive Chain Adjustment
– Cooling System
– Troubleshooting Procedure
AND MORE
WHY GET FROM US:
 We provide highly reliable and informative. Our Bobcat manual is produced by a group of experienced professional.
Easily Comprehensive. With the guide of illustrations, diagrams and step-by-step instructions.
Time Saving. We understand that waiting at the workshop just to get a simple repairing work done is time waiting. Why wasting those precious time when we can do the simple repairing on our own.
Cost Saving. According to new figure revealed, the highest garage labor rate has hit a record $100 per hour. If you are nervous about the cost of the Bobcat manual and learn the techniques on your own.
SPECIFICATION:
COMPRESS FORMAT: ZIP
FILE FORMAT: PDF
LANGUAGE: English
PRINTABLE: Yes
REQUIREMENT: Unzip tools (7-zip) & Adobe Reader
OPERATION: All Windows Version / Mac / Linux OS / Android
After we accepted your payment, we will send you the download link to your payment email. It is 100% safe trust-worthy and reliable.
Click on button below to get your Bobcat service manual instantly: